If you know me beyond the fact that I write books, drink too much coffee, buy accessories I don't need and am always talking about food (or eating it), you might know that I'm a bit of a beauty junkie. I love make up. I love watching YouTube tutorials and learning new things.
I'm kind of addicted to watching Jaclyn Hill, Tati Westbrook, Kathleen Lights and Jeffree Star.
It's a problem.
Or maybe it's a solution.
Because I have never looked as good as I did after I discovered this 'problem'.
And it wasn't just about looking good at the start. It was about watching them and feeling a little better when I was going through some tough times. I'd be anxious, depressed, upset and then I'd put on a video about the perfect smoky eye and I'd feel better. It created a safeness. It changed my life. At the time, at least. In a small and important way.
Yes, it's a little shallow and maybe vapid to say that watching videos about makeup made by strangers changed my life. And I'm not talking about saving my immortal soul or anything—that's fucked. But these made a difference. Not just to my makeup skills—those are kick ass too—but to my entire routine, state of mind.
I started watching these thinking I was the bee's knees and makeup. Turns out I was the spider's elbows. In other words, just…no.
People noticed a difference. My besties would make me do their makeup on a night out. I was more confident. I felt prettier.
These people became my friends. I'd put a video on while I was doing anything and everything, they kept me company. I related to them. They helped me grow into myself and realize that yes, it's okay to be totally girly and glam. I've always been girly and glam—well, not always. My dad brought me up to shoot rabbits, ride motorbikes and throw a punch, among other things. So until about the age of 11, I hung out with all boys (because girls were girly wusses), had my hair cut short and wore boy's clothes. I know, almost impossible to believe.
Fast forward to a twenty-six-year-old me and my hair is long, and the only time I'll wear men's clothes is if I'm wearing my boyfriend's t-shirt to bed.
I love pink. Glitter. Heels.
When I started watching these videos as a university student, I'd kind of held myself back from the world, fearing what people would think. Scared they'd label me shallow or stare at me for wearing pink sequins at 9 a.m. on a Monday morning.
In a library.
But you know what these videos taught me?
Not to give a fuck.
Let my sequined, pink, glam as all shit freak flag fly.
So let's talk about makeup and skincare.
And the simple joy and happiness it brings.
The Cult Products Actually (kind of) Worth Spending a Small Fortune On
Okay, I'm starting this off by saying you don't have to have a two-hundred-dollar moisturizer. No one is holding a gun to your head. No one has scissors anywhere near your favourite LBD. No one is gonna throw your favourite signed paperback in the fire.
If you think your money is better spent on say…a down payment for a house, or rent, or feeding yourself, then you're one hundred percent right.
A lot of the products on this list are not practical or sensible purchases.
But being practical and sensible is not what led you here so how about we throw those ridiculous notions out the window and start with the list.
Because I fucking hate it when bloggers post a 'list' and then I have to scroll through eight hundred paragraphs of them babbling on.
Get to the good stuff already.
Skincare
I have struggled with my skin almost my entire life. Since I was thirteen-years-old I had the worst acne. My mum spent a small fortune on every treatment imaginable. Facials, light therapy, every skincare system promising clear skin. I've taken all the vitamins. Gone on all the diets. Nothing helped. It was horrible.
Anyone with chronic acne will know this.
Being a teenager is hard enough without having to slather your face with makeup to attempt to hide the red bumps on your face. And even that doesn't work. Plus it clogs your pores and makes it worse. I didn't even get respite when this followed me into adulthood.
If anything, it got worse.
I didn't want to leave the house. I avoided mirrors when I didn't have makeup on. It seems like a vain thing to get upset about but it really affected my confidence. In the end, I actually had to go on Accutane. I'm not going to recommend it to anyone because the amount of side effects (physical and mental) were insane. It's a dangerous drug and only used as a last resort. I was at last resort status.
And it did work. My skin is clear apart from that dreaded time of the month or if I eat too much chocolate. But I'm very careful about what I put on my skin because I'm terrified of it coming back. So I try to treat my face with the fewest amount of chemicals I can. But I know from experience what works for one person can be a disaster for the next person. This is just what I've discovered works for me after a lot of trial and error.
Angels on Bare Skin by Lush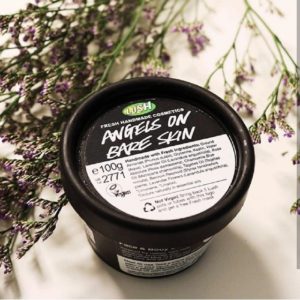 This is my absolute ride or die. I don't see myself changing this in the future. It's gentle, all natural and is amazing on my skin. The ingredient list is short and full of natural products, no nasty chemicals you can't pronounce. Chamomile, lavender, rose, almonds. It smells beautiful. You only need a tiny amount mixed with water and then slather on your skin.
When my skin is being an asshole, I use 'Dark Angels' it has charcoal (which is detoxifying) and is a great exfoliant. I usually put it on at the start of a shower and leave it on kind of like a mask.
Fresh Soy Face Cleanser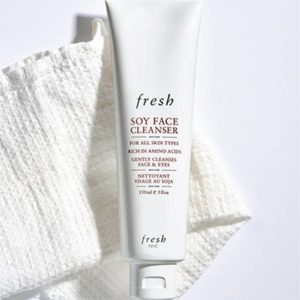 Another natural cleanser that is divine. I bought it while traveling, out of my Lush and looking for the most natural thing I could. It smells like cucumbers and is extremely gentle and non-irritating. My mum loves this stuff. I use it when I'm traveling because it's easier to pack than Angels. Plus, it's a little less messy because it's a gel cleanser, so if your prefer gel, give this a go. This entire brand is actually divine.
Grab it here.
Pixi Glow Tonic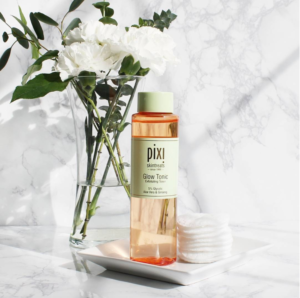 If you know even a little bit about beauty then you know this has gained somewhat of a 'cult status', for good reason. It is amazing at making my skin 'glow' and is full of all those ingredients that help with anti-aging. It's got Glycolic Acid which is great for exfoliating and purifying. It's also alcohol free, which is great.  I would say to only use this once a day, or once every two days because it is quite strong.
Buy it here.
La Mer Crème de la Mer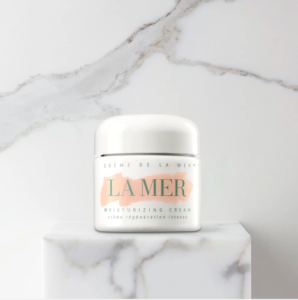 Every self-respecting beauty guru has heard of La Mer. You might've lovingly stroked it at a department store before scooping out outrageous amounts, dodging the eagle eye of the tight faced shop assistant and scampered off, cradling your soft and heavenly hand. That might be as close as you're gonna get and that's fine. Seriously. The sun will still rise and set if you don't use this moisturizer.
I promise.
BUT, your skin won't look quite as good.
Some things are not worth the money. A lot of things.
But this is.
It's a cult product for a reason.
First time I bought it because I was on a layover and I was sleep deprived and had my credit card and was feeling irresponsible.
So I got the mystical cream I never justified buying because only 'adults' bought such things. I didn't even really think about what it was going to do to my face. I honestly didn't even expect anything. I just wanted to own the thick glass tub of utter luxury.
It. Changed. My. Life.
And of course I'm being dramatic here.
But it did.
Okay, at first, I didn't realise that you're meant to take a small amount, 'heat it up' between your fingers and then apply, because it's super thick and if you don't do this then a little does not go a long way.
Because I didn't know this until the fourth application, I was slathering $25 worth of moisturizer onto my face daily.
Well, I woke up the next day to a $20000-dollar difference.
I was hydrated. My skin tone evened out. I just looked…good.
I'm not going to say much else, because if you are in the mood to buy this, you will and then I don't need to say anything else. The product speaks for itself.
I will say that it's super rich and I alternated using it every other day. Only because I have acne prone skin and I was nervous that it would make me break out if I used it too often. I never broke out on it, but anyone who has had acne before knows how scared you are for it to come back.
I did recently purchase 'the soft cream' version on accident and although it's easier to apply, I don't like it as much.
Sign away your soul and purchase here.
Luna by Sunday Riley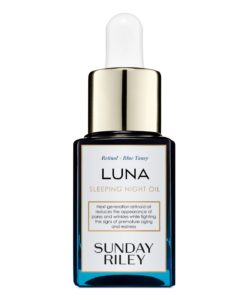 Another game changer.
I'm hurtling into my late twenties. I don't feel like it. Primarily because I don't feel like a 'late twenty-year-old' should feel. People in the shadow of their 30th birthday should have their shit together, right? Know about the stock market. Make good decisions.  A secure job which funds an expensive shoe addiction. Some form of savings account.
I have barely any of those things.
Some of which I'm happy about.
But since I didn't feel older, I didn't even think about things like retinols. Those are for other people. People almost in their thirties.
People with savings accounts and secure jobs.
People like me, minus the savings account and secure job. Plus a couple of forehead wrinkles you could park a mini cooper in.
Seriously.
One day they were there. And unmistakeable omen of adulthood.
Enter Luna.
This magical product seemed to disappear this crater of doom almost overnight. It was drastic, I tell you. And if you pair it with Good Genes by the same brand, you'll thank me. A duo made in heaven. Honestly, with the addition of La Mer, this is my skincare ride or die.
Buy here.
Ole Henriksen Truth Serum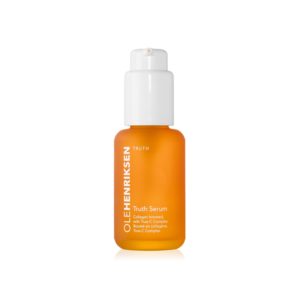 Oh my god, this product, you guys. This is a reasonably recent addition to my skincare routine but it is a game changer. I posted it on my Instagram stories calling it 'Botox in a bottle' and I stand by that. It's full of Vitamin C which is amazing for your skin. Anything with a decent amount of Vitamin C is going to brighten the skin, help with visible signs of aging and hydrate. This does everything it promises.
It does make your skin more sensitive to sunlight so make sure you've got on a good SPF. But you should always have on a good SPF. No matter what.
Bonus tip: I put this on after toner and before moisturizer. I use a jade roller I bought in Hong Kong to help press it into the skin. I really rate it.
Buy here.
Eye De-Puffer by Kiehl's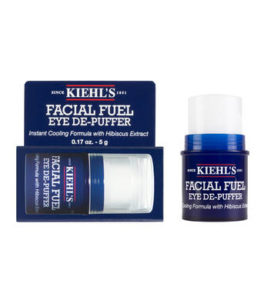 This is apparently a men's product, but whatever. This is a game changer. Especially when you're traveling or if you had too many tequila shots and not enough sleep. It instantly depuffs the eyes and feels super soothing.
My boyfriend kept stealing mine until I got him one of his own, so make sure you get one for you and the man in your life if you want to make sure he doesn't use it all.
Grab it here.
Rosehip Oil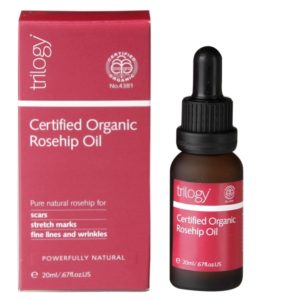 This is a much cheaper alternative to Sunday Riley and it is a great product. I take a small bottle when I'm flying and absolutely slather it on my face because planes are so dehydrating. I use this at night time and it's so good for dissolving acne scars too.
I honestly think any brand will do, but I love the Trilogy one and the Antipodes one.
Buy here.
Makeup
I adore makeup. Adore it. I have so many more favourites than these, but this is what I couldn't live without. Obviously the only things I physically couldn't live without are food, water and caffeine but you get me
If you like this kind of thing from me, I can do more makeup posts
For now, here's my ride or dies.
The Silk Canvas Primer by Tatcha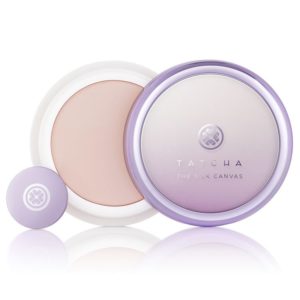 This is a primer that is gonna change your life. And I know, the price tag makes you lose your breath a little and I've got a low-cost option below.
But if you are willing to splurge on a makeup product, I'd highly recommend this. A little goes a long way, so this will long twice as long as a product that costs half as much. It's also free of parabens, sulphates and fragrance. It blurs out those pores and makes your makeup glide on like a dream.
I adore this brand as a whole, it's founded on Japanese beauty routines, and have you seen the skin of geishas? Flawless. I'd also highly recommend 'The Water Cream' as an alternative to La Mer. It's soft, hydrating, and beautiful.
Buy here.
Niva Men's Aftershave Balm 

Okay, stay with me. I know this seems weird. And it smells distinctly…manly.
But I kind of like it, it's comforting. And it doesn't linger once I've slathered my face with about a thousand other products. Plus, it's super cheap. Even cheaper if you can steal it from your hubby or your boyfriend. I have used this for years. It's a really great alternative to all the fancy expensive primers out there and does pretty much the same job, if not better. Make sure you get the sensitive one.
Grab it here.
L.A Girl PRO Conceal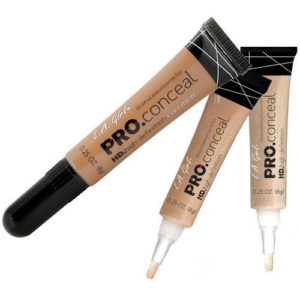 I know a lot of people are dying over the Tarte Shape Tape concealer. I own it and I honestly think it's only okay.
It makes my under eyes crease like a bitch but it's a good concealer for the other parts of my face. I tend to double team my concealer because I'm that girl. But if I had to choose one, it'd be hands down the L.A Girl one. It's so fucking cheap it's amazing. It doesn't crease and if you get a darker colour, it can double as a cream contour. We love a multi-purpose product. And I'll admit, when I'm feeling lazy I just dot this around my face like foundation, rub it in and put on some powder and I manage to look halfway decent.
Buy it here.
L'Oréal Lash Paradise Mascara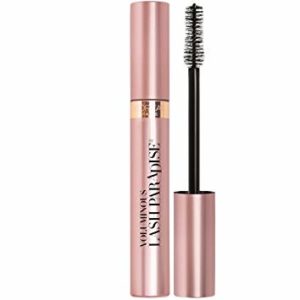 Before this, my holy grail was Benefit Roller Lash—and that is still high on the list of best mascaras of all times—but this little ditty has pushed it off its perch. It's cheaper and it makes me look like I'm wearing false lashes. Which is awesome since I have to get my bestie to put lashes on me and she's on the other side of the world right now.
I feel like I don't have to say anything else about this. It's that good.
Buy it here.
Fenty Beauty Pro Filt'r Soft Matte Longwear Foundation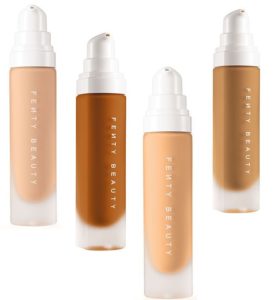 I was a little late to the whole 'Rihanna beauty' party. I have a really weird aversion to any beauty product made by a celebrity. Well, apart from Curious by Britney Spears and J Lo Glow, but I was fifteen at the time. I always question their quality and they are mostly overpriced. But this is an exception. I bought this in Canada and the first time I wore it, my mum was amazed at how different my skin looked. She commented on it all day. And she was right. This shit is holy grail type level. You can't beat the shade range either. Don't get the primer in a similar bottle, though. It sucks.
Buy here.
L'Oréal Infallible Longwear 24 Hour Foundation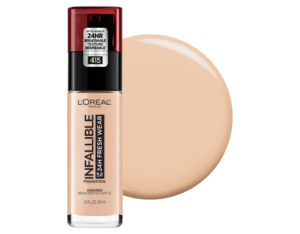 As I said earlier, I've struggled with acne for a large chunk of my life. Because of that, I'm very picky about foundations. Because the wrong one with the wrong ingredients can be disastrous.
I used to only exclusively use expensive foundations because I believed they wouldn't break me out (shoutout to Giorgio Armani Luminous Silk and Estee Lauder Double Wear).
So I was kind of a snob and never used drugstore foundations.
Until now.
This trumps all of those expensive foundations.
I shit you not.
My skin has never looked so flawless, so airbrushed. And it stays on all fucking day.
Buy here.
Hourglass Veil Translucent Setting Powder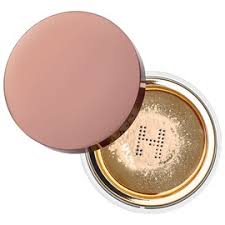 Okay, if you're new to makeup, you need a few things. A good primer, foundation, concealer, bronzer. And setting powder. This. Is. A must. It does exactly what it says. It sets your foundation, helps it stay on for longer and the right one makes your face look amazing. I'm naughty and I don't own a drugstore version. Nor have I tried one. The only other one I have is La Prarie and that shit is crazy expensive. But it works.
Something slightly more reasonable is this one by Hourglass. And I like it so much better. It sets my makeup like a dream and makes my face look all cute. It will last you a long time too, since you don't need a lot. Hourglass is a great high quality brand in general.
Get it here.
Physicians Formula Butter Bronzer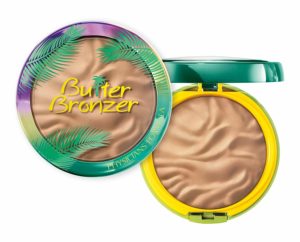 This is honestly one of my ultimate, holy grail products. My current one just fucking broke and I'm almost hysterical about this because they don't sell it in the UK. I honestly don't know what I'm gonna do. Fly to America to buy more probably. I will continue to purchase this until the day I die. I'm not kidding. It's so fucking cheap. And it smells like coconuts. The perfect bronzer. I will say, when I go ham on the fake tan, it is a little pale. Mac's 'Give Me Sun' is my alternative in these situations.
Also, the Butter Blush is to die for. Shade 'Rosy Pink' is where it's at.
Buy here.
Chanel Coco Mademoiselle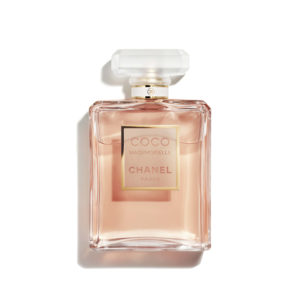 This will always be my signature scent. I mean, it's Chanel. You can't go wrong with Chanel.
Jeffree Star…anything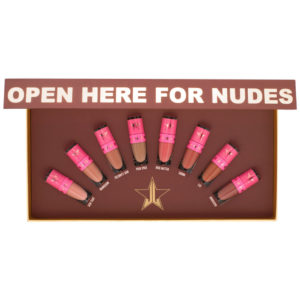 I love all of his products. Seriously. All of them are high quality, original and amazing. I'm ready to sell my soul for the concealer and setting powder.
I will say, his liquid lipsticks are some of the best on the market, they last all day and they're super well priced. My go-to is 'Mannequin'.
Head to his website and enter makeup heaven.
Okay, that's it for now. As I said, this is far from all of them, but I know I've written a lot already. If you're interested in more, please comment underneath and let me know. I'd be happy as hell to prattle on about makeup.